OFFICE PARTITIONS
Planning to install a partition wall to create a well-designed office space?
Offices have changed in their design and layout over the last half century, shifting away from the rows of individual booths of decades gone by to more open plan settings where people can interact with each other with ease. Office spaces have evolved as workplace culture has evolved. But even in open plan offices, private areas are still required, which is where office partitions come into play. If you want someone experienced in commercial office partition design who can supply and install office partitions in Melbourne, get in touch with Ultimate Chippy.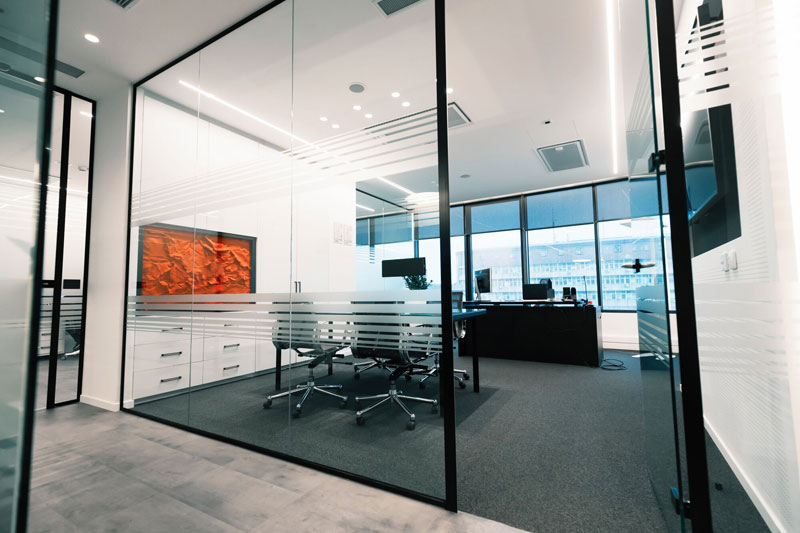 At Ultimate Chippy, we are experts in office partitions in Melbourne and can enable businesses to create separate work areas with the construction of permanent or placement of temporary office partitions.
For a temporary solution, we have a range of office partitioning screens to suit the precise requirements of your space. They can in a range of colours, finishes and with great acoustic properties.
For increased privacy, acoustics and separation, we recommend a more permanent solution, with the construction of partition walls for offices, in either glass, plasterboard or combination of both materials, so that you can make the most of your workspace.
Whether you just want a desk partition or office partition walls, we have your needs covered. Connect with us to discuss your office partitioning in Melbourne requirements.
Glass Partitioning in Melbourne
Do you want a glass office partition?
We have quality glass office partitions available to transform the look of your space. Our glass partitions for the office can enable you to create efficient workstations while lowering noise. Our office partitions can be designed to meet your exact requirements and enhance the look and appeal of the workspace.
FLEXIBLE & MODERN OFFICE PARTITION WALLS
One of the greatest characteristics of a modern office space is its flexibility; the way a space can be easily reconfigured time and time again to accommodate everything from changes in staff numbers to a change in business focus. For example, if you anticipate an increase in staff members soon, we can design a space that allows for future growth. Alternatively, if your business was to switch to a more customer-centred model, then there might be a need to build some private offices or meeting rooms for one-on-one conversations with clients. Instead of permanent offices that may not be required in 18 months' time, why not opt for phone pods, hot desks or multi space offices, offering greater flexibility in the use of space? For superior quality office partition design and office partition installation in Melbourne that specifically accommodates the needs of your business, speak with our team today.
WHAT ARE THE BENEFITS OF INSTALLING OFFICE PARTITION WALLS?
Ultimate Chippy can install modern office partitions that allow you to enjoy a range of benefits. Among these benefits are:
Divide and define spaces
Offer privacy
Can be used to form offices, meeting rooms, phone pods, breakouts etc.
Maximise natural light with the construction of aluminium glazed partitions and doors
Add colour and personality to the space with feature walls and doors and use of powder coated aluminium sections to form glass partitions
Easy to install
Reduce noise
Improve productivity
Ultimate Chippy has the skills and ability to construct a variety of commercial partitions, including metal stud plasterboard walls, timber stud plasterboard walls and aluminium glazed office partition walls, whether full height, half height or sectional with horizontal aluminium sections breaking up the glass for a contemporary look. Our designers have the expertise to offer advice in terms of which partition system to use throughout the space based on your requirements to ensure better use of the space while offering a great working environment for staff members and clients.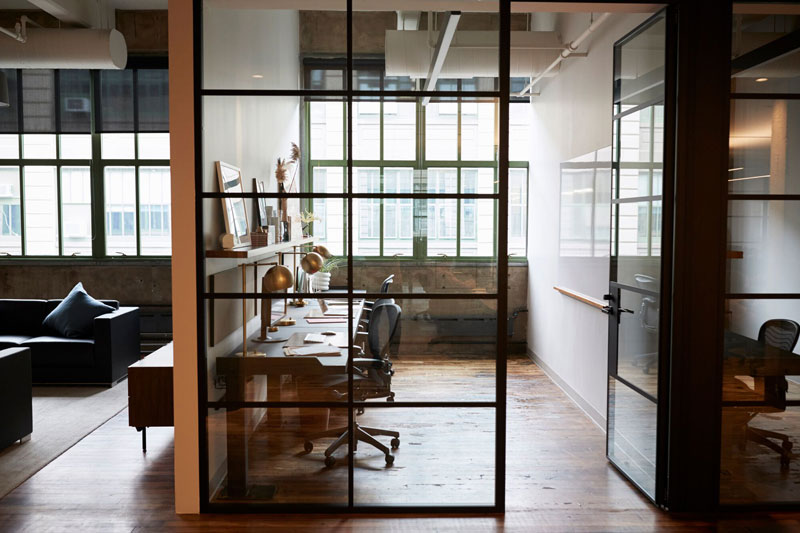 EASY TO INSTALL AND REMOVE
These days, office partitions in Melbourne are often favoured to create private spaces for open plan offices and communal areas to bring staff together, such as informal meeting areas or breakouts. Ultimate Chippy can design your space according to your needs and budget. Whether you need extra floor space to accommodate an influx of new employees, want to reconfigure the office for a more COVID-safe layout, or would like to build additional walls to better utilise floor space, we can provide the best solutions.
REDUCE NOISE
Office partitions can be made from a wide variety of materials, including frameless glass, aluminium framed glass, plasterboard and even timber if you're looking for a feature in your space. Some of these materials provide excellent noise reduction qualities, and when erected can effectively muffle sound travelling from one end of the office to the other. Our team also have several ideas to reduce noise transfer through the use of acoustic treatment.
CREATE PRIVACY
Need a quiet place to chat with a client or another employee? Office partition walls not only keep external sounds out but can also prevent your conversations from being heard outside the enclosed area. Create privacy for those times when you might need a meeting place for clients or somewhere to simply work in peace without distraction.
IMPROVE PRODUCTIVITY
Whether you're working on a project with a smaller group of employees or you just want somewhere quiet to work in peace, office partition installation can help to improve productivity by creating spaces for group discussion or working in solitude. Ultimate Chippy can help you increase productivity in your workplace with the installation of modern office partitions in Melbourne.
A VARIETY OF DIFFERENT STYLES AVAILABLE
Another way of creating a space for your employees is by installing commercial workstation partitions for their workstations. They come in a variety of designs, from clear glass/ Perspex to solid fabric, with a vast range of colours and fabrics (plain or pattern) available. They can also be fixed at different heights to workstations depending on the level of privacy required, as well as offering flexibility with the ability to clip them to benchtops as the need arises. Office partitions can also be fitted with soft boards that enable the pinning up of signage, posters, office rules and other documents.
MAXIMISE THE AVAILABILITY OF NATURAL LIGHT
Partition walls are great for making the most of the abundance of natural light in a workspace. Having clear glass in place of traditional plasterboard walls divides the office space while maintaining a sense of openness. This typically appeals to staff and clients alike, creating a workspace filled with natural light that conveys a positive and productive image.
ADD COLOUR AND PERSONALITY TO THE OFFICE
If drab and lifeless barely begins to describe the appearance of your workplace, then painted or featured office partitions can add a splash of colour to your premises. Even a change as minor as this can lift employees' spirits, which in turn can help to increase productivity.
A PRACTICAL, COST-EFFECTIVE CHOICE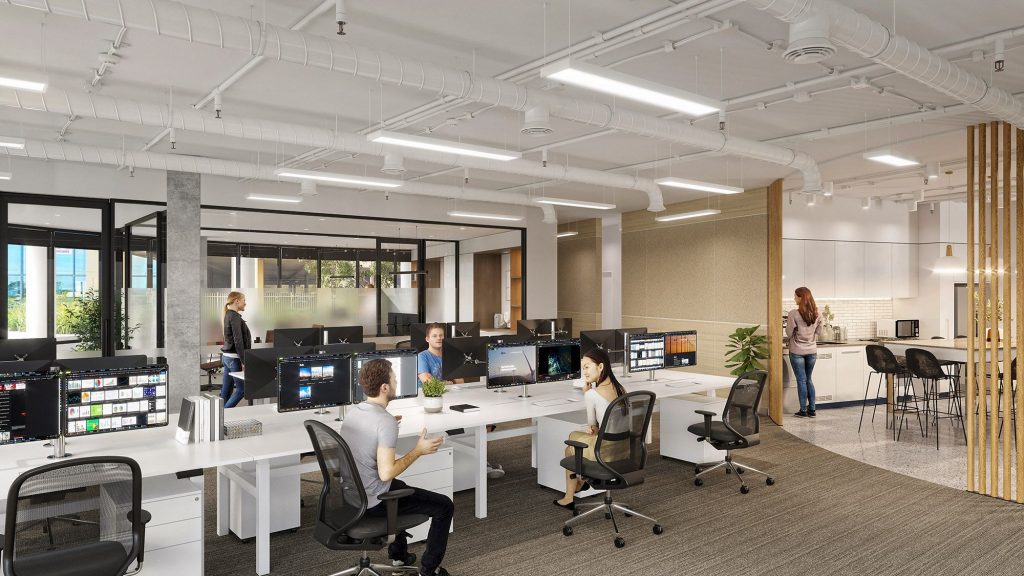 Workstations are a cost-effective option for open plan layouts, allowing a high number of staff members to be placed in a given space, while adhering to a standard of working comfort for all staff members. When designed and built well, modern office partitions can offer collaboration, flexibility, departmental separation and many other advantages.
CREATE EASY REFERENCE POINTS FOR VISITORS TO THE OFFICE
In an expansive, open plan office, giving directions to a visitor looking for a particular person can be difficult. With office partition installation, you can create different department areas in the workplace, making it easier to direct visitors to where they need to go.
CONTACT ULTIMATE CHIPPY TODAY
Looking around at office partitions Melbourne wide, you'll discover there are many different types available. From aluminium glazed partitions with their sleek, stylish finish through to metal stud partition walls intended for noise reduction and privacy installation, we can help you choose the right office partition walls for your needs. To learn more about our services for office partition design and installation, call Ultimate Chippy – one of the leading office and shop fitting companies in Melbourne.